RB 73,2:

"But for those who would hasten to the perfection of that life there are the teaching of the holy Fathers, the observance of which leads to the height of perfection"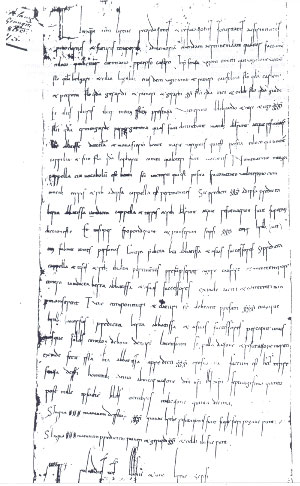 In 1075 Donna Berta, a descendant of the Cadolingian counts, a powerful Tuscan family, Abbess of the Monastery of Benedictine Vallumbrusians in Cavriglia (a town in the province of Arezzo) was given a chapel dedicated to St.Victor and St. Niccolò, along with all its land and riches, with the clause that she should not neglect nor abandon the property. The chapel was about 8 km. northwest of San Gimignano, near the castle of Catignano. The monastery of St.Victor was in a lovely location, but unfortunately, far from the town, and therefore exposed to the frequent raids common in Tuscany in those times. In 1337, due to the many outside attacks, the monastery was transferred inside the town walls. The nuns agreed to give their property of Sts.Victor and Niccolò to the town of San Gimignano, which in turn would build a monastery (a house and cloister). The monastery would be located near the Hospital of Santa Fina, in front of the Magione del Tempio. On November 1, 1337, the small community of five nuns moved into the new monastery, which in time was extended and completed according to the requirements of the Rule of St.Benedict.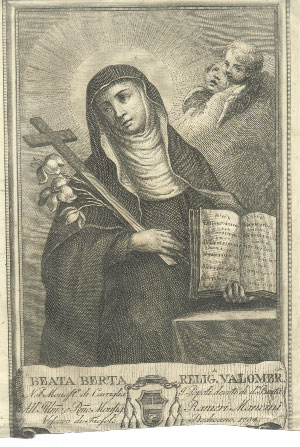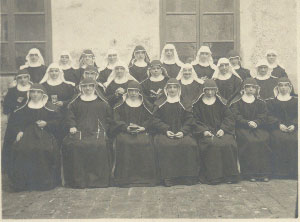 In 1477, the monastery of St.Mary the Virgin in Cavriglia (which had been founded for the second time in 1143 by St.Berta, Donna Berta's grand-niece) met the same fate: the Florentines and Senese raided it more than once and the nuns moved to San Gimignano, where the monastery had by then assumed the name of San Girolamo. In the twelfth century, the church of Magione del Tempio was annexed. It is believed to have been founded in 1221 by a family of Templars, the Baccinellis. When the Templar order was suppressed, the church was entrusted for a short period to the order of St.John of Jerusalem and then given in perpetual lease to the nuns of San Girolamo (1637). In that same year, a fly-over bridge was built to connect the church and the monastery. Over the centuries the community grew in size and in 1539 counted 52 nuns, two girls "in serbanza" (waiting to be admitted) and about ten boarding school girls.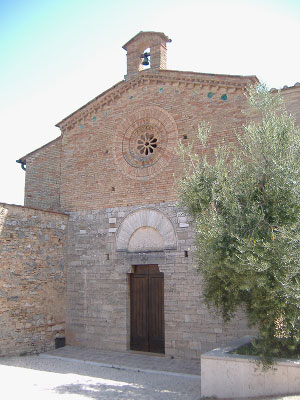 The hardest times for San Girolamo came in the nineteenth century with the suppression decrees: in 1813, the Napoleonic laws decreed the suppression of all monasteries and forced the nuns to flee and seek refuge with relatives and friends. Only in 1816 were the nuns able to regain the monastery, which had been badly neglected. Renovation had barely been completed when in 1866, the Italian government issued a similar law, but did not succeed in turning the nuns out of their house.